The newest federal holiday is Juneteenth National Independence Day, celebrating the end of slavery in the United States. Washington is one of 28 states that legally recognize Juneteenth as a public holiday.
It commemorates the day more than two months after the end of the Civil War – and more than two years after Abraham Lincoln issued the Emancipation Proclamation – when enslaved Black Americans in Galveston, Texas, were informed of their freedom.
Thursday, June 15, 5-8PMTollefson Plaza (1548 Commerce St, Tacoma)
JUNETEENTH FREEDOM CELEBRATION
Join a family-friendly celebration with food, live music, and performances. This event will also feature appearances from:
• Deputy Mayor Kristina Walker
• C. Ivan Johnson
• Poet Laureate Christian Paige
• The Artist Collective – Creative Direction by Kenya Adams
Residents can add handprints to the Black Lives Matter Mural, designed by artist Dionne Bonner. All attendees can head over to Tacoma Art Museum for FREE entry during the event.
---

Saturday, June 17, 11AM – 5PMWright Park (501 South I St, Tacoma)
JUNETEENTH 253
Presented by Tacoma Cease Fire
Saturday's Juneteenth festival at Wright Park will feature a variety of activities for all ages, including live music, dance performances, food vendors, historical reenactments, and more. We encourage everyone to bring their friends and family as we celebrate this important holiday.
---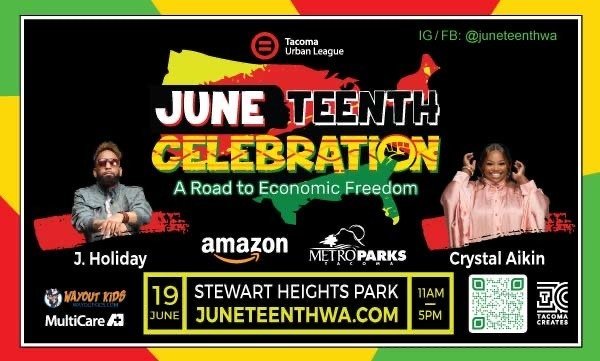 Monday, June 19, 11AM – 5PM
Stewart Heights Park (5715 Reginald Gutierrez Ln, Tacoma)
JUNETEENTH CELEBRATION: A ROAD TO ECONOMIC FREEDOM
Supported by Tacoma Creates, Tacoma Urban League, and Metro Parks
Monday's Juneteenth festival at Stewart Heights Park will host over fifty vendors from trade associations, local businesses, nonprofits, and finance.The festival will include a main stage filled with amazing performances and speakers, an interactive kid's zone and stage, face painting and a playground.
---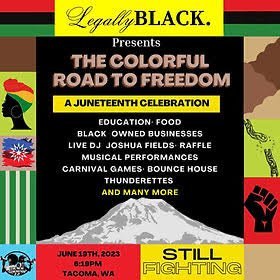 Monday, June 19, 6:19PM
People's Park (900 MLK Jr Way, Tacoma)
THE COLORFUL ROAD TO FREEDOM
Legally BLACK presents…
An outdoor block party/festival vibe for the community!
-Win up to $1000 in scholarships!
-Shop Black owned businesses
-Food truck
-Live DJ Joshua Fields
-Musical performances
-Carnival games
-Bounce house
-Black Student Union Thunderettes Step Team
-Raffle + prizes
+ MORE!
End your Juneteenth festivies here for an incredible night of education and celebration on June 19th! Last stop on the Freedom Road 2023.
 Every year on the Juneteenth Holiday LegallyBLACK hosts a Juneteenth Celebration. always at 6:19pm!
 LegallyBLACK represents BIPOC, but not all BIPOC have the same culture history and lived experience. So we honor and uplift them separately when necessary and address us all collectively when appropriate. Juneteenth is to honor BLACK History, people, culture and our future. All are encouraged to celebrate and learn with us.
— all sourced by local Black Owned Businesses and Entertainers!
---

Monday, June 19 6:30PM
Grand Cinema, 606 Fawcett Ave, Tacoma
A SPECIAL JUNETEENTH FILM PRESENTATION
In 1979, James Baldwin wrote a letter to his literary agent describing his next project, Remember This House. The book was to be a revolutionary, personal account of the lives and successive assassinations of three of his close friends-Medgar Evers, Malcolm X and Martin Luther King, Jr. At the time of Baldwin's death in 1987, he left behind only thirty completed pages of his manuscript. Now, in his incendiary new documentary, master filmmaker Raoul Peck envisions the book James Baldwin never finished. The result is a radical, up-to-the-minute examination of race in America, using Baldwin's original words and flood of rich archival material.
---
From The News Tribune, more events…
 Royal Masquerade Juneteenth Gala: Saturday, 6:15PM – 9PM, Washington State History Museum, 1911 Pacific Ave. Admission is $45.
 Juneteenth Celebration at Ray Gibson's Cabelleros Club: Saturday, 8PM to midnight, at 1516 S 28th St
 Juneteenth Family Storytime: Saturday, 3PM – 3:30PM, online at tacomalibrary.org.
 Mazigazi Band Juneteenth Celebration: Sunday, at Elks Temple, 565 Broadway, Spanish Ballroom. Tickets are $7 in advance and $10 at the door.
 Black Business Market: Sunday, 12 noon – 8PM, at Waterfront Market at Ruston, 5101 Ruston Way, Ruston.