WHAT IS DIFFERENT IN THE 2021 LEGISLATIVE SESSION
The 2021 WA state legislative session will look quite different than prior years. Due to COVID restrictions the session will be fully virtual, including committee meetings. This will likely slow down the process, necessitating a more focused approach.
The Democratic House leadership has requested that members limit themselves to introducing seven or fewer bills.
Speaker Jinkins has requested that bills be "important" and "urgent" to be considered.
Members are urged to focus on bills in the following four areas: COVID, Economic Recovery, Racial Equity and Climate Crisis.
INDIVISIBLE TACOMA LEGISLATIVE ACTION TEAM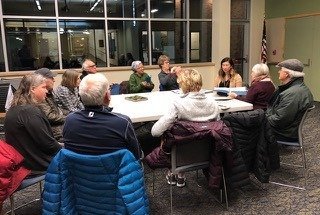 The Indivisible Tacoma Legislative Action Team is focusing on these key areas: Social Justice, Education, Environment/Transportation and Good Government.
These correlate with the Washington Indivisible Network teams.
We are interested in working closely with Indivisible groups and other allied groups across the state to promote progressive legislation.
MAKE YOUR VOICE HEARD IN OLYMPIA
The statewide Indivisible group, Washington Indivisible Network is using an exciting new tool called "Take Action Network" this year to lobby for the progressive legislation we support.
Members can create an account and choose what types of bills they would like to be informed about. This can be helpful for members who prefer to avoid social media sites like Facebook.
You will be notified with a script for calling or emailing your legislator whenever these bills are at a key juncture. It makes it quick and easy to make your voice heard.
Members can also sign up to be bill trackers and create calls to action for bills. "Take Action Network" links to
leg.wa.gov

, the official state legislative website and will make bill tracking and targeting the relevant committee members much easier.
If you have any questions or issues with signup email
info@takeaction.network

.
Indivisible worked hard in the 2020 Session for bills such as those below.
(Failed bills may return this year!)