FAQ
Frequently Asked Questions
FAQs About Indivisible Tacoma
How Do I Join Indivisible Tacoma
The image below shows the areas we need help with.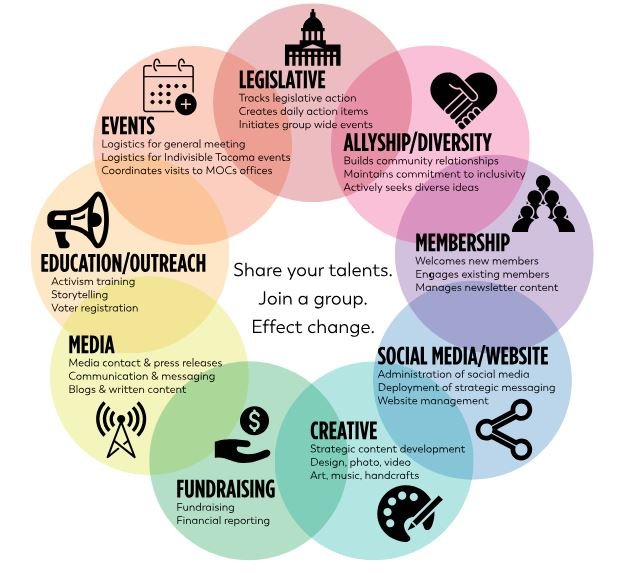 What Does Indivisible Tacoma Do?
We are grassroots lobbyists who engage with our lawmakers to resist Trump's White House and push for a progressive agenda. This includes popular initiatives like Single Payer, a Green New Deal to fight climate change, electoral reform, and demands for more investigations into the Trump administration.
We meet regularly with our members of Congress to keep our priorities in the forefront, and also contact them regularly via phone and email. We also work with our lawmakers in the State Legislature.
On top of that, we register voters, do postcard campaigns, hold candidate forums and canvass for progressive candidates during election years, and strive to support our local progressive allies.
Is Indivisible Tacoma Part of a Larger Organization?
No, there is no larger hierarchy. While we adhere to the methods and principles found in the 2021 Indivisible Guide, and the new 2019 Indivisible on Offense, we do not report to any higher or regional organization and do not receive direct support from any larger entity.
Does Indivisible Tacoma Have Any Paid Staff?
No, we are all volunteers. Any funds collected go to things like venue rentals for general meetings, website hosting, P.O. box, raw materials purchase for tangibles we may produce, etc.
How Are Indivisible Funds Used?
Indivisible Tacoma has no paid staff and is entirely volunteer-driven. But we do incur expenses for things like our website, meeting venue, and producing T-shirts and other gear. As we grow and move into the summer, there will be booth rentals at area festivals and other community gatherings. Our finances are tightly controlled and overseen by our Council of Representatives. Full transparency is our goal, and no expenses are approved without full group consensus.
Donate securely now with ActBlue.