Elections: Actions, Town Halls
Fight Trumpism by electing progressives!
State, county, local elections are critical – even more crucial with redistricting on the horizon.
Voting rights, policing, environment, social justice legislation depend on who represents us.
Right now, commit to a couple phone bank shifts and text bank shifts. Right now, talk with friends and neighbors, donate to candidates, help put up candidate signs around Pierce County, join sign-waving.
Local districts can be flipped blue with everyone's help.
We can make change happen.
Since we can't meet candidates face-to face, we are presenting them online.
Indivisible Tacoma is proud to have initiated a collaboration with Indivisible chapters all over the state and the Washington State Indivisible Podcast to produce the Town Hall Series, moderated by Stephan Cox.
We'll meet statewide candidates once each month and Legislative or Congressional candidates on the other Tuesdays, especially from flippable LD's! 
Find out how you can help elect progressive candidates to these consequential positions. 
We are determined to engage with candidates and issues in this crucial election year.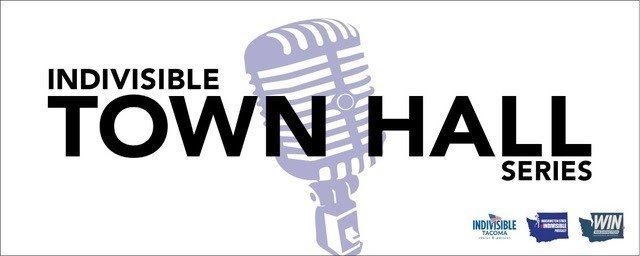 STATE EXECUTIVE BRANCH
Attorney General Bob Ferguson
9/15/2020
Video:
Podcast:
Commissioner of Public Lands Hilary Franz
5/19/2020
Video: https://youtu.be/GTViFzJyzp4
Podcast: https://soundcloud.com/wsip/washington-indivisible-town-hall-series-hilary-franz-commissioner-of-public-lands
Lieutenant Governor Marko Liias
6/2/2020
Video: https://youtu.be/bCBiiH5YY_k
Podcast: https://soundcloud.com/wsip/town-hall-series-candidate-for-lieutenant-governor-marko-liias
9/1/2020
Video: https://youtu.be/7ZrUbBysUQw
Podcast: https://soundcloud.com/wsip/town-hall-series-state-candidate-forum-lieutenant-governor-candidate-marko-liias
Secretary of State Gael Tarleton
4/21/2020 (with Mike Pellicciotti, State Treasurer)
Video: https://youtu.be/_eVosA_JVgM
Podcast: https://soundcloud.com/wsip/special-indivisible-town-hall-progressive-candidates-for-secretary-of-state-and-state-treasurer
9/1/2020
Video: https://youtu.be/XTuwr_dUgVo
Podcast: https://soundcloud.com/wsip/win-state-candidates-tarleton
Superintendent of Public Instruction Chris Reykdal
6/23/2020
Video: https://youtu.be/qmfvBCs7TeM
Podcast: https://soundcloud.com/wsip/town-hall-series-washington-superintendent-of-public-education-chris-reykdal
9/1/2020
Video: https://youtu.be/i0wZBA2LCw0
Podcast: https://soundcloud.com/wsip/town-hall-series-state-candidate-forum-superintendent-of-public-instruction-chris-reykdal
Supreme Court Justices Raquel Montoya-Lewis & G. Helen Whitener
8/18/2020
Video: https://youtu.be/_KDmaKRYWjA
Podcast: https://soundcloud.com/wsip/town-hall-series-candidates-for-the-washington-state-supreme-court?in=wsip/sets/win-town-hall-series
Treasurer Mike Pellicciotti
4/21/2020 (with Gael Tarleton, Secretary of State)
Video: https://youtu.be/_eVosA_JVgM
Podcast: https://soundcloud.com/wsip/special-indivisible-town-hall-progressive-candidates-for-secretary-of-state-and-state-treasurer
9/1/2020
Video: https://youtu.be/qztfT0nmWrE
Podcast: https://soundcloud.com/wsip/town-hall-series-state-candidate-forum-mike-pellicciotti-candidate-for-state-treasurer
——————————
STATE LEGISLATIVE BRANCH
LD5 Town Hall
6/9/2020 – Ingrid Anderson & Sen. Mark Mullet (Senator), Rep. Bill Ramos (Rep pos 1) & Rep. Lisa Callan (Rep pos 2)
Video: https://youtu.be/_wLIet-nNTA
Podcast: https://soundcloud.com/wsip/town-hall-series-candidates-for-the-5th-legislative-district
9/9/2020 – Ingrid Anderson (Senator)
Video: https://youtu.be/sel5QWUHc4Q
Podcast: https://soundcloud.com/wsip/town-hall-series-state-senate-candidate-ingrid-anderson-ld5
LD10 Town Hall
5/26/2020 – Angie Homola, Ivan Lewis, Scott McMullen & Suzanne Woodard (Rep pos 1)
Video: https://youtu.be/aCXv1h5mj7A
Podcast: https://soundcloud.com/wsip/special-town-hall-ld-10-candidates-for-representative-in-position-one
5/28/2020 – Rep. Dave Paul (Rep pos 2) & Helen Price Johnson (Senator)
Video: https://youtu.be/rYxFsXVUFl0
Podcast: https://soundcloud.com/wsip/washington-indivisible-town-hall-series-ld10-candidates-for-senate-representative-in-position-two
9/9/2020 – Helen Price Johnson (Senator)
Video: https://youtu.be/rBd9NynNiAg
Podcast: https://soundcloud.com/wsip/town-hall-series-10th-ld-senate-candidate-helen-price-johnson
Date TBD – Angie Homola (Rep pos 1)
Video:
Podcast:
LD16 Town Hall
7/21/2020 – Frances Chvatal (Rep pos 1), Carly Coburn (Rep pos 2), & Danielle Garbe Reser (Senator)
Video: https://youtu.be/g0AKBd4X_q4
Podcast: https://soundcloud.com/wsip/town-hall-series-candidates-for-the-16th-legislative-district
LD17 Town Hall
9/22/2020 – Tanisha Harris (Rep pos 1) & Daniel Smith (Rep pos 2)
Video:
Podcast:
LD19 Town Hall
5/12/2020 – Marianna Everson and Clint Bryson (Rep pos 1)
Video: https://youtu.be/IGQWL51S6-c
Podcast: https://soundcloud.com/wsip/washington-indivisible-town-hall-series-19th-ld-candidates
LD25 Town hall
4/15/2020 – Jamie Smith (Rep pos 1), Brian Duthie (Rep pos 2), & Julie Door (Senator)
Video: https://youtu.be/SldmSeIjyXc
Podcast: https://soundcloud.com/wsip/special-town-hall-series-25th-ld-candidates
9/9/2020 – Julie Door (Senator)
Video: https://youtu.be/bsF-uhclC6s
Podcast: https://soundcloud.com/wsip/town-hall-series-state-senate-candidate-julie-door
LD26 Town Hall
5/5/2020 – Carrie Hesch (Rep pos 1) and Joy Stanford (Rep pos 2)
No video of this event
Podcast: https://soundcloud.com/wsip/special-town-hall-series-candidates-for-the-state-legislature-in-the-26th-ld
Date – Joy Stanford (Rep pos 1)
Video:
Podcast:
LD28 Town Hall
4/28/2020 – Mari Leavitt (Rep pos 1), Dan Bronoske (Rep pos 2), and T'wina Nobles (Senate)
Video: https://youtu.be/7Bb-Wxh6eso
Podcast: https://soundcloud.com/wsip/win-town-hall-28th
LD29 Town Hall
7/28/2020 – Rep. Steve Kirby & Sharlett Mena (for Rep pos 2)
Video: https://youtu.be/hEYS23uMp6A
Podcast: https://soundcloud.com/wsip/special-town-hall-series-29th-ld-candidates
LD30 Town Hall
7/7/2020 – Jamila Taylor (Rep pos 1) & Rep. Jesse Johnson (Rep pos 2)
Video: https://youtu.be/edRMi7niwDc
Podcast: https://soundcloud.com/wsip/town-hall-series-candidates-in-the-30th-legislative-district
LD35 Town Hall
6/30/3030 – Colton Myers (Rep pos 1) & Darcy Huffman (Rep pos 2)
Video: https://youtu.be/b14Rc0OYDGg
Podcast: https://soundcloud.com/wsip/town-hall-series-candidates-in-the-35th-legislative-district
LD42 Town Hall
8/11/2020 – Alicia Rule (Rep pos 1) & Rep. Sharon Shewmake (Rep pos 2)
Video: https://youtu.be/ueL0_4dWjno
Podcast: https://soundcloud.com/wsip/special-town-hall-ld-42-candidates
Date TBD
Video:
Podcast:
LD44 Town Hall
6/16/2020 – Rep. John Lovick (Rep pos 1); Anne Anderson & April Berg (Rep pos 2)
Video: https://youtu.be/aXsvsvOkPl4
Podcast: https://soundcloud.com/wsip/town-hall-series-candidates-in-the-44th-legislative-district
Date TBD – April Berg (Rep pos 2)
Video:
Podcast:
—————————-
CONGRESSIONAL EVENTS
CD7 Pramila Jayapal
DATE
Video:
Podcast:
CD8 Kim Schrier
8/25/2020
Video: https://youtu.be/w06b-zGvyOY
Podcast: https://soundcloud.com/wsip/town-hall-series-congresswoman-dr-kim-schrier-wa-08
CD9 Adam Smith
6/20/2020
Video: https://youtu.be/b_4v9HbNcX8
Podcast: https://soundcloud.com/wsip/town-hall-with-9th-cd-congressman-adam-smith
8/15/2020 – on the NDAA
Video: https://youtu.be/MdW_Wizjhm0
Podcast: https://soundcloud.com/wsip/chair-of-the-house-armed-services-committee-adam-smith-wa-09-on-the-2021-ndaa
November Date TBD
Video:
Podcast:
CD10 Town hall
7/14/2020 Beth Doglio (CD10 candidate)
Video: https://youtu.be/LCmfLCHYO9M
Podcast: https://soundcloud.com/wsip/town-hall-series-cd-10-candidate-beth-doglio
———————————-
FOR UPCOMING EVENTS, GO TO facebook.com/WashIndivisible/events