Election Roundup and Town Halls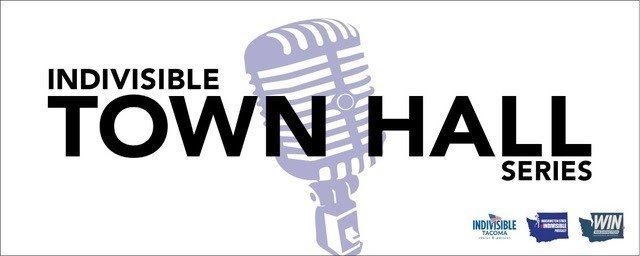 Since we couldn't meet candidates face-to face in 2020, we presented them online.
Indivisible Tacoma is proud to have initiated a collaboration with Indivisible chapters all over the state and the Washington State Indivisible Podcast to produce the Town Hall Series, moderated by Stephan Cox.
Indivisible Tacoma was a key part of the WIN/WSIP/IT Town Halls for most of these excellent presentations!  You can still see them on WIN You Tube.
New episodes, focused primarily on Legislative issues, can be found in our

NEWS

section and in our

NEWLETTER

.
Indivisible Tacoma Endorsed and Recommended
2020 Candidates with Results
 Indivisible Tacoma members and leaders were a strong force in the 2020 elections!  While we were disappointed in three key races and two Legislative Districts, we are also excited about the WINNERS!
WA State Results for President:  Biden/Harris  58%  Trump/Pence  38.75%
ENDORSED by Indivisible Tacoma:
Indivisible Tacoma is so relieved that Governor Inslee was strongly re-elected over extremist Trump follower Culp and Bob Ferguson had the backing of the WA voters!
Jay Inslee, for Governor  58% to 43.09%

Bob Ferguson, for Attorney General 45% to 43.45%

Mike Pellicciotti, for State Treasurer  43% to 46.49%


Indivisible Tacoma worked ferociously to help Mike Pellicciotti flip the State Treasurer's office bringing a progressive Democrat into that office at a crucial moment!

Chris Reykdal, for WA Sup't of Public Instruction   59% to 44.9%

We strongly supported Chris Reykdal to out perform a right-wing "Betsy DeVos" type candidate who lied about her credentials and R-90!

Derek Kilmer, for Congress 33% to 40.43%
Derek called to thank us for our support in his strong win for CD6

LD27 State Legislature:  Jeannie Darneille 55% to 30.23%,
State Senate; Laurie Jinkins, Pos 1 78.84% to 17.5%;
Jake Fey, Pos 2  71.39% to 27.66%


Not unexpected, yet very grateful that these three Democrats were re-elected, with Jinkins again the Speaker of the House!

LD28 State Legislature:  T'wina Nobles, State Senate 62% to 49.18%

YAY!   We are so excited to help elect progressive T'wina Nobles replace regressive Steve O'Ban.  She will currently be the only Black woman in the WA Senate, long overdue!

Mari Leavitt, Rep Pos 1  57.21% to 42.62%

We are so pleased to help re-elect the person we helped elect in 2018 – Mari Leavitt and to help elect Dan Bronoske to replace

Rep. Kilduff , Pos 2  55.02% to 44.77%.

Go T'wina, Mari and Dan!
Indivisible Statewide Town Hall project was one of the first to support and present the excellent new WA Supreme Court Justice candidates who diversified our court in important ways.
Montoya-Lewis is just the second indigenous State Supreme Court Justice, and Whitener represents Black, gay, disabled, and immigrant communities.
Raquel Montoya-Lewis, Justice Pos 3  –  35% to 46.21%

Helen Whitener, Justice Pos 6 –  62.33% to 37.03%
RECOMMENDED:
Hilary Franz, for WA Commissioner of Public Lands 71% to 43.19%


We were extremely disappointed when Hilary endorsed Doglio's opponent in a Democrat on Democrat race where she did not have to endorse at all.

Pat McCarthy, for State Auditor  45% to 43.45%

Mike Kreidler, for WA Insurance Commissioner    41% to 34.11%

LD29 State Legislature: 

Melanie Morgan, Rep Pos 1   61% to 36.03%     
Steve Kirby, Rep Pos 2          58.9% to 40.74%

We welcome back Morgan and Kirby and look forward to working with them.

County Council, District 4: Ryan Mello   73% to 36.78%

County Council, District 6: Jani Hitchen   04% to 47.8%

Indivisible Tacoma is deliriously happy that we flipped the Pierce County Council

by strongly supporting

Jani Hitchen

to flip a Republican seat – in spite of the disappointment in several Democrat officials who endorsed her opponent.  With Jani and

Ryan Mello

, the County Council will have a Democratic majority and will elect a Democratic Chair, changing the dynamics completely!

IT supports:  WA Referendum 90 passed by 57.83% to 42.17%
LOSSES: 
Indivisible Tacoma is sorely disappointed that progressives Marko Liias, Gael Tarleton and Beth Doglio lost their bids for Lt. Governor, Secretary of State and CD10!
Senator Marko Liias, our recommended progressive candidate who is the WA Senate Majority Leader, lost to Denny Heck  66 to 33.52 w 20.8 (R)

Gael Tarleton, our endorsed candidate, lost to Republican Kim Wyman 53.6% to 46.28%

Beth Doglio, our endorsed candidate, lost to Marilyn Strickland 33% to 35.56% and write-in candidate 15.11%
We will work with Marilyn Strickland in the hope she will become the progressive she claimed to be.  We will monitor Kim Wyman for problems in the SOS position.
LD25 and LD26:  We are devastated at the losses of the excellent candidates in these two important LDs:  Jamie Smith 46.48% to 53.39%, Brian Duthie 47.42% to 52.42%, Julie Door 46.05% to 53.79% (LD25) and Joy Stanford 44.61% to 55.28% and Carrie Hesch 46.78% to 53.11% (LD26). 
We must do more groundwork in both places!