Phoning and Texting
Goal: to get every single ballot turned in!
FOR BETH DOGLIO
Tuesday, October 27, 5PM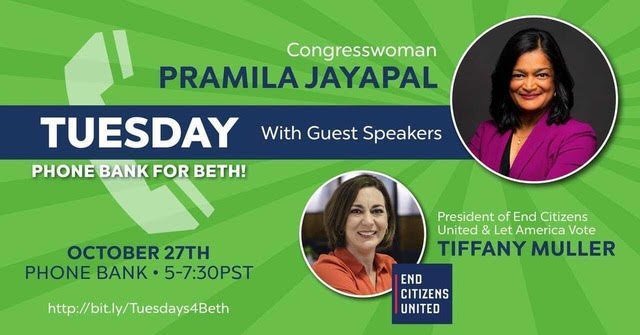 INDIVISIBLE CALL-A-THONS! 
For folks who prefer to get their phonebanking on in a group setting, we've got three exciting opportunities coming up for you.
These events will be great opportunities to meet other Indivisibles from across the country, build community, and contact voters in key swing states ahead of Election Day.
RSVP for one (or all) of them today!
October 31st: GOTV Call-A-Thon: Call-O-Ween (featuring comedian Abbi Jacobson)

Before you begin your Halloween night activities, join us in the afternoon for our final call-a-thon before Election Day!
Abbi Jacobson will join us to bring some fun to the event.
There will be a costume contest so come decked out in your scariest, cutest or political caricature attire.
We'll have prizes!
When: Saturday, October 31st, 3 pm – 6 pm ET/12 pm – 3 pm PT
FUSE! PHONE AND TEXT BANKS
Our relational organizing model is one that uses an app called Reach.
This app allows you to securely and privately upload your contacts from your phone into the app, sort them, and then text them if they are registered to vote.
This app connects with ANY messaging app connected to your phone, so if you want to use FB Messenger, you can.
We are hosting a training and a "Reach" session specifically for Pierce County Voters on 10/29 from 4-6 pm.

If you aren't available on these dates and time, you can attend the first 15-30 minutes of an event to get the training, then make calls or send texts any time!
Using our sign up links is critical for these events.
We need to have access to your email and phone number to sync up to our technology!
Our lists are not, in any way, coordinated with the State Democratic Party nor coordinated with campaigns.
They are specifically atargeted at getting out the vote to voters who care about climate action.
For our phone banks, we use a program called CallFire, which is an autodialer.
We've had really great success with this model, as it allows us to reach so many voters.
CallFire does NOT require you to download anything onto your phone or computer.
But, to have access to our campaigns, we have to invite you.
For our text banks, we use a program called ThruText.
ThruText can be accessed on your computer or by downloading an app.
We will also do trainings.
Our Communities, Our Future Text bank!
October 30, 2020 12:00 PM – 2:00 PM PT
Join us as we text voters across the state to make sure they have their ballots and they have a good plan to vote!
October 31, 2020 12:00 PM – 2:00 PM PT
Join us as we text voters across the state to make sure they have a plan to turn out this election!
Writing: Send Letters and Comments
Respond to editorials, endorsements, or letters to the editor that are in opposition to Indivisible values.
Post a letter or comment online to The News Tribune, the Suburban Times, or The Seattle Times.
This week, those readers need to see more positive rationales for Chris Reykdal, Gael Tarleton, and Beth Doglio, for example.
ttings.